Electronics-Lab Review: CONVERT YOUR RASPBERRY PI IN AN OPEN SOURCE TABLET WITH THE RASPAD 3
Introduction
Single-board computers based on the Raspberry Pi are powerful, low-cost, and compact. This makes them excellent for small tasks that require a real computer rather than a low-level microcontroller. However, they have a minor downside in that, they are compact but not easily portable when given as a simple circuit board.
SunFounder offers a consumer-grade portable open-source tablet, RasPad 3. Built around the Raspberry Pi 4 SBC, the tablet provides a touchscreen platform for development and tinkering. It retains all of the Raspberry Pi's ports, allowing you to take advantage of all of the Raspberry Pi's features.
RasPad is intended to reduce barriers, allowing you to go right into building your maker's project. The tablet can be easily assembled in few easy steps. It is a simple tablet interface that lets you program from anywhere. It is an excellent IoT project partner because it allows you to develop millions of applications.
Box Contents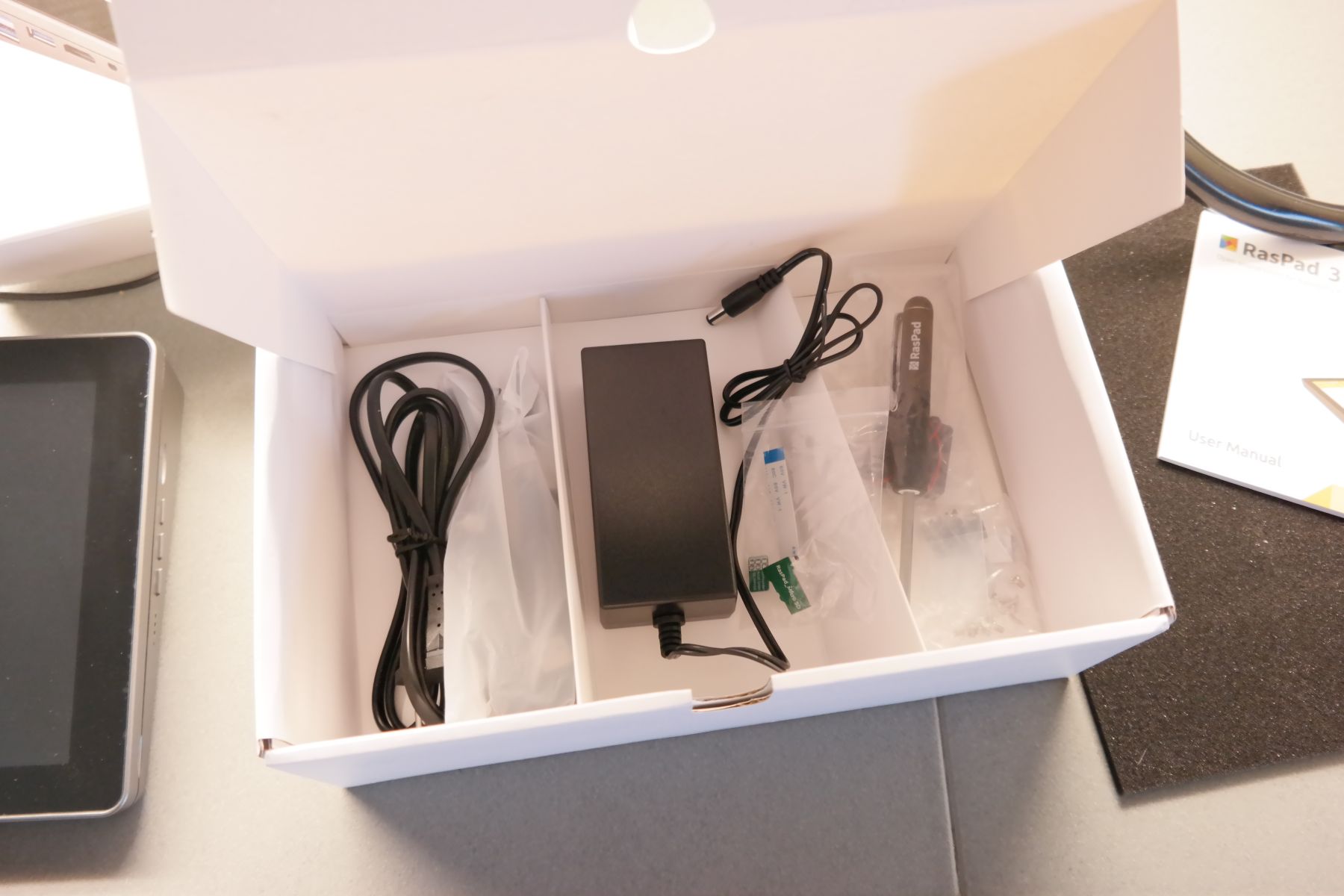 The RasPad 3 comes with everything you need to get started. The box includes all the essential parts and cables to self assemble the tablet. All you need is a Raspberry Pi 4B and a clean SD Card.
RasPad x 1
Power Adapter x 1
Micro SD Card Extension Board x 1
Fan x 1
FFC Cable x 1
Accel SHIM Module x 1
Heat Sink x 1
M2.5×9 Screw x 1
M2.5×4 Screw x 1
USB Cable x 1
Ethernet Cable x 1
HDMI Cable x 1
Type C Cable x 1
Micro HDMI Cable x 1
Power Cable x 1
Manual x 1
Assembly
Assembly is done using only a screwdriver and the process is fun and easy. All you have to do is to place the RB4 to its place and connect the provided cables to the daughterboard. This way all ports of the Raspberry Pi are available from the external. Don't forget to also attach the 3 x small heatsinks to the board and the small fan to the back cover. This is all needed to start enjoying your new RB4 tablet.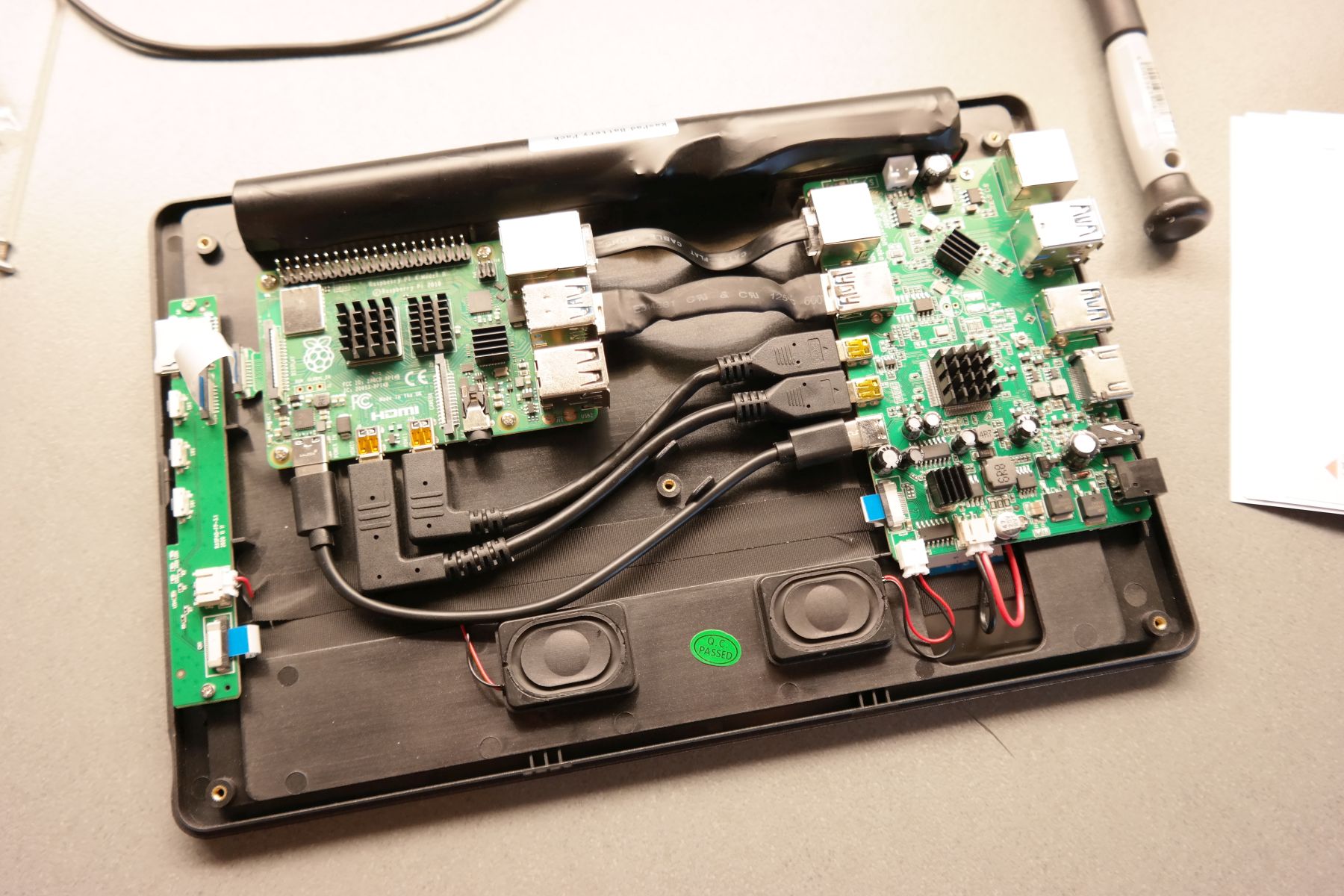 Deeper Look At Portable Raspberry Pi Tablet
At 270 x 127 x 47 mm in footprint, the tablet has a 10.1 inch, 1280 x 800, IPS screen with 10-finger touch capability. It may not be the best screen you have seen for RB4, but it would definitely keep your eyes focused while programming or gaming. Thanks to its triangular structural design and a small six-axis acceleration sensor, it may also be put flat or upright on the table. Therefore, while using the Raspad OS, this allows for a rotating screen.
We also noticed that the image on the screen is a bit stretched on the horizontal axis, as this may be due to incorrect display drivers or the resolution of the LCD. You can notice this distortion in the last photo below. Check the electronics-lab.com logo, isn't it distorted?
To create customized projects the tablet provides you access to all of the Raspberry Pi ports including Ethernet, HDMI, Audio, USB, and Power. In addition to this, RasPad can also be configured to include the Raspberry Pi 40-Pin I/O port for breadboarding and prototyping projects. Thus, like any other computer, you can connect the RasPad with other controllers.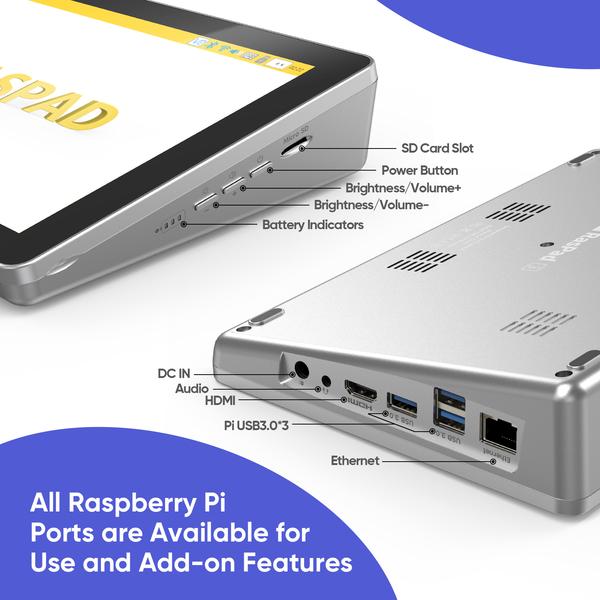 You can also simply extend RasPad with additional displays for enhanced multitasking or display mirroring by using HDMI ports. On the other side of the tablet, a small breakout board includes buttons for power, volume, and brightness control. Along with this, it has onboard LEDs for battery monitoring and an externally accessible microSD slot.
There are two boards inside. One is a custom board that connects the Raspberry Pi to the outside world, and the other is a battery management and On-Screen Display (OSD) control board. The Raspberry Pi 4 is placed between these two daughterboards. It connects to the custom board through three USB 3.0 ports, a USB 3.0 and Ethernet cable for wired networking, and two micro-HDMI cables. The dual micro-HDMI ports are for the onboard display and the external HDMI output, respectively.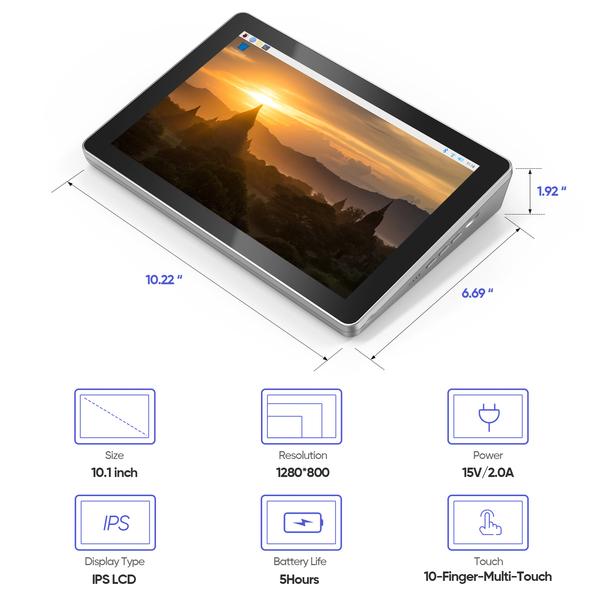 According to SunFounder, the tablet features a three-cell 3000mAh battery with a battery life of up to 5 hours. Although this may be over-rated, it should definitely keep you going for a few hrs, depending on the workload. Furthermore, the board powers the Raspberry Pi 4 through a USB-C connection. The inbuilt 18650 Lithium-polymer batteries or the 15V DC charger can provide the necessary power.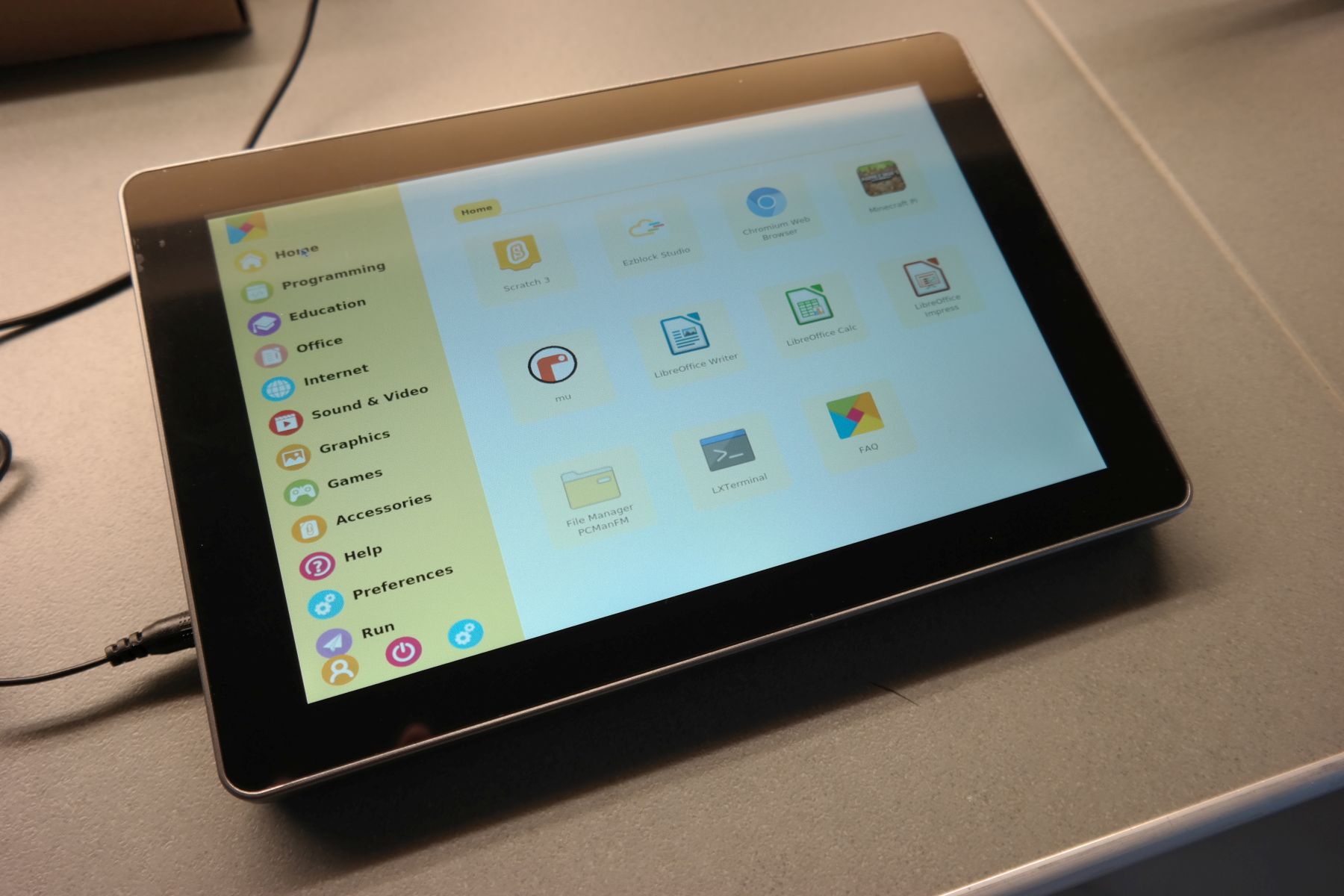 Additionally, the heatsinks are included to provide adequate cooling for most of the applications. According to Tom's hardware article, the kit provides three heatsinks for the processor, a USB 3.0 controller, and a small accelerometer SHIM. Also, another upgrade over the original RasPad, the new RasPad 3 provides further cooling by a small fan, for additional cooling and if you want to overclock the Raspberry Pi to its limits. Fan proved to be quiet and not annoying at all.
Although the enclosure lacks GPIO pins, a small gap in the casing allows you to feed a ribbon cable through to expand the GPIO header to the outside world. Also, a TF card extension design has been introduced by the firm. Without removing the back cover, you may instantly swap out micro-SD cards to switch between OS.
Software Of RasPad 3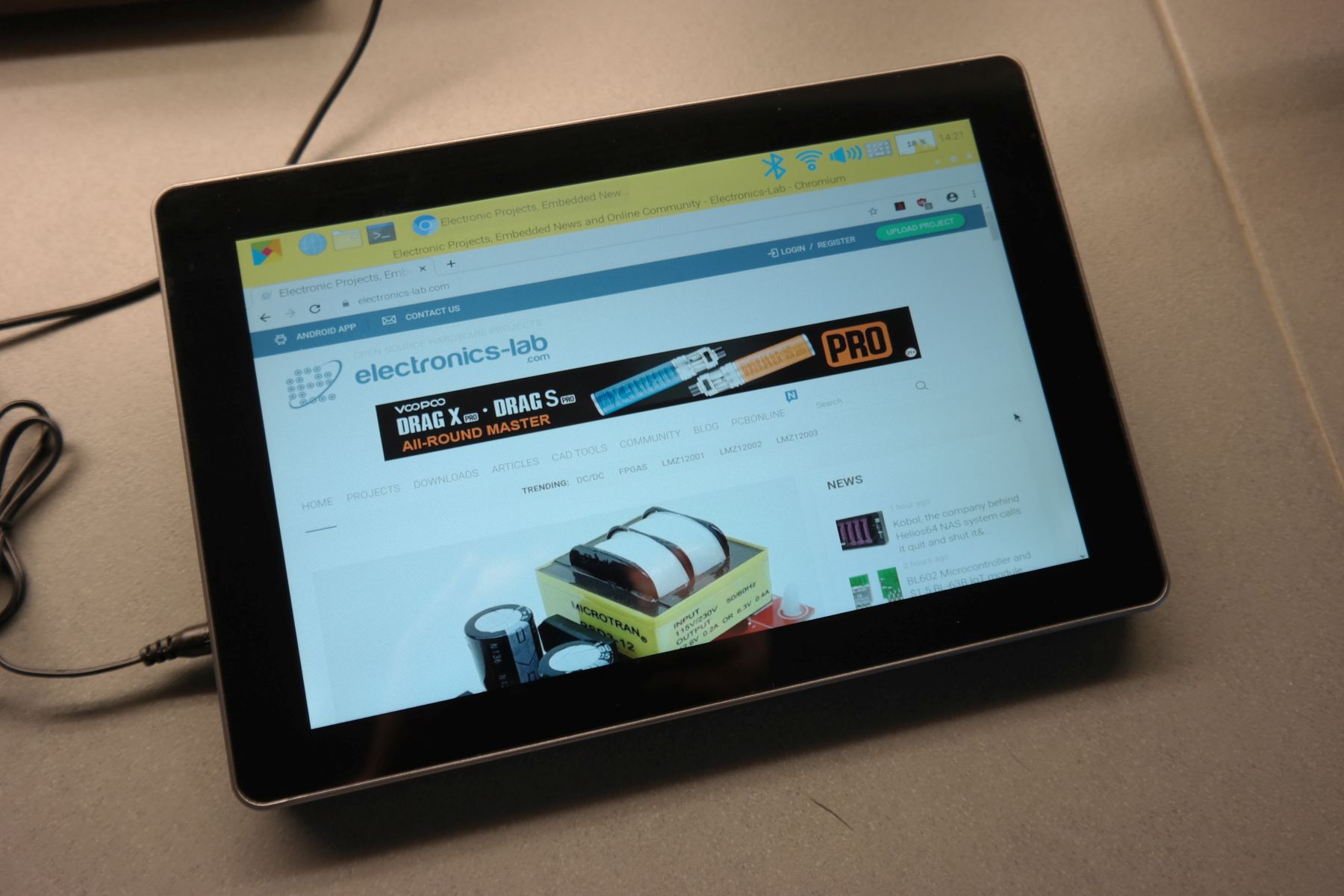 Talking about the software support, RasPad provides a fully customizable operating system environment. It is compatible with various operating systems, including Raspberry Pi OS, Ubuntu Desktop, Chromium OS, Windows, Android, and more. Additionally RasPad can be used as a 3D printer controller, a game console, a programming tablet, or a platform for developing Internet of Things (IoT) projects for smart-home applications.
The default available OS image is RasPad OS which is based on Raspberry Pi OS and is available for download on the official page. As we were informed from the manufacture they are planning to replace RasPad OS with RasPad launcher any time soon.
As you may already notice from the photos above, it integrates a custom user-friendly menu with multiple categories to make the different apps available.
RasPad 3 is available for $219 on the company's website. For more information visit the product page. Images and technical specifications have been taken from the product page.
Source: By Saumitra Jagdale
https://www.electronics-lab.com/convert-your-raspberry-pi-in-an-open-source-tablet-with-the-raspad-3/
---